Advice On Selling Your House in New York Without a Realtor
Selling your house doesn't have to be a stressful and tedious process. By following some simple steps, you can successfully manage the sale of your home in New York without enlisting an expensive real estate agent! Not only will this save you money on commission fees but it'll also provide peace of mind knowing that you are taking charge during one of life's most important financial decisions.
Determine The Market Value of Your Home
Before you list your home for sale, understanding its market value is essential. To do so, analyze recent sales of comparable homes in the vicinity or consider having an appraiser provide a professional assessment. Establishing the market value of your house will help you adjust an attractive asking price and entice potential buyers.
Make Repairs and Upgrades
When you're ready to list your home for sale, it's wise to make sure all necessary repairs and upgrades are done – such as fixing leaky faucets, replacing outdated light fixtures and repainting walls. No one wants a fixer-upper! Small updates like these can help significantly enhance the value of your property, making it more desirable in buyers' eyes.
Market Your Home
Now that your residence is ready for potential buyers to view, you want to make sure it reaches the right audience. To do this, take advantage of online resources like classifieds and social media, as well as get it out there through more traditional print ads — don't forget about hiring a professional with an eye for capturing gorgeous shots! Showcasing quality photos can help bring in those interested viewers who may end up being serious contenders down the line.
Host Open Houses and Showings
To draw in prospective purchasers, you must not only market your home but also host open houses and showings. Ensure that your house is spotless and free of mess prior to each showing, as well as be prepared to address any queries the potential buyers may have.
Negotiate The Sale
You have an opportunity to maximize the value of your home by negotiating the details of a sale. This could encompass anything from the purchase price and closing date, down to any contingencies involved in it. To make sure that you adhere to all legal regulations, consider enlisting the help of a real estate lawyer who can assist you during this process.
Avoid Realtors And Sell House Directly To Dealhouse
When it comes time to sell your home, you have many options. One way is by selling directly to a firm such as Dealhouse–which specializes in expeditious house buying and does not require the use of real estate agents. Let's explore some potential pros and cons when deciding whether or not working with Dealhouse or another organization like them would be the right choice:
Advantages:
Speed: When you work with a company like Dealhouse, you can often close the sale much more quickly than if you list your house with a realtor. This can be a big advantage if you need to sell your house quickly.
Convenience: You don't have to worry about cleaning, staging, or showing your house to potential buyers. This can be a big relief for people who don't want to deal with the hassle of preparing their home for sale.
No realtor commissions: When you work with Dealhouse, you won't have to pay a realtor's commission. This can save you a significant amount of money.
if you need to sell your house quickly and want to avoid the hassle of working with a realtor, selling directly to a company like Dealhouse may be a good option for you. We buy houses in New York as is for cash.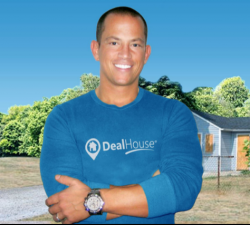 Latest posts by Chris Chiarenza
(see all)