Cash for Homes in New York Buyers – Will I Get A Fair Price?
Selling a home is often associated with considerations of both time and money. Nevertheless, if you require to expedite the sale of your New York house, there are local professional cash-buyer companies that could purchase it from you immediately! With their swift solutions in New York, you can rest assured knowing that selling your property won't be an arduous process.
Ready to learn how you can quickly sell your New York home, get cash in return without having to list it with an agent and wait months? Let's jump right into this!
How Can Cash For Homes Buyers in New York Benefit You?
Uncovering a dependable local New York house buyer who pays in cash can be intimidating. But, with some research and inquiry, there are many investors on the market willing to purchase your home for an instant pay-out. When you're exploring options of which company could assist you with this process (including our own reputable firm – DealHouse, where we buy local New York houses quickly), here are several aspects that should always be taken into consideration:
Before diving into the details, if you'd like to learn more on how our cash buying process works for homes in New York, feel free to check out our "How it Works" page or FAQ. This way, you'll have a greater understanding of what we do and can make an informed decision about working with us!
How Much Are You Willing to Sacrifice in Terms of Time and Money?
If you're looking to get the full market value of your home quickly, then it may be difficult without a real estate agent. This can take 3-6+ months and will require their help in finding the best buyer. However, they charge commissions that range from 3-6%, which could add up if waiting 6 months for sale – is this worth the wait? Selling on cash might grant immediate financial relief but won't give you an exact amount.
At DealHouse, we are a team of local New York home buyers who will assess the worth of your house, taking into consideration renovations and repairs that need to be done. We take our time in making sure each project is completed properly so that when it comes time to sell the property, there's still room for us to make a small profit despite offering below market value pricing.
If the priority is to sell your house fast and stress-free, then you're in luck! We can close as quickly as 7 days if needed – all with zero hassle. Simply fill out the form on the next page or give us a call at 631-388-6640 for more information.
In a snap, we can make you an effortless offer within twenty-four hours.
We always ensure that all house sellers we work with are familiar with the numerous options available to them, and even urge you to acquire other offers for comparison. Our offer may not be the lowest or highest one on the market, but rest assured that when we make an offer it will be what we guarantee it is.
What Level of Effort Will You Invest To Ensure the Successful Sale of Your Home in New York?
Local New York cash home buyers, like DealHouse, can provide you with a significant advantage; we will assume all of the stress and effort associated with selling your house.
We handle it all.
Forget about what you know a real estate agent does. That route requires time and effort to spruce up your house for viewing, coordinating with buyers on price agreements and other details – it can feel like an endless cycle of hard work. With us, that's not the case!
Especially if your house here in New York needs some work.
We offer immediate cash for homes in New York, because we are local professional home buyers. No matter the condition of your house, we will purchase it "as-is" and cover all repair costs afterwards! Don't worry about any paperwork either; our experienced closing agents can take care of that too! Let us help you transition into a stress free situation with just one swift transaction.
Are you looking to sell your New York house? Let us make you a competitive, all-cash offer! Contact us at 631-388-6640, and if it's the right fit for both of us, we will take care of everything.
Do Your Research And Trust Your Gut
Before you decide to accept a cash offer from an investor, take the time to research their reputation thoroughly. Ask for references and speak with people who have collaborated with them in the past to ensure they are suitable for your specific needs.
Unfortunately, there are those who won't keep their word. Before you agree to anything, ensure that you do your due diligence and investigate the person in question as well as confirm they can complete what they're promising on schedule. Trusting them is also essential; only enter into a deal if it's with someone whom you believe will keep up their end of things.
At DealHouse, we understand how vital our reputation is to us and are more than willing to answer any queries you have about the process or what services we can offer. When you're ready to embark on your journey of selling your New York house for cash, simply fill out our online form and let's get started!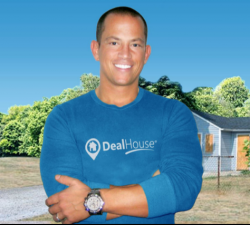 Latest posts by Chris Chiarenza
(see all)