DealHouse Explains Its Home Inspection and Repair Process
Home Inspection and Repair Process
Next, to your appraisal, home inspection and repairs can also be a huge headache. Imagine a never-ending barrage of questions covering your roof to your basement. You will also need to decide whether to sell your home flaws and all for a lower price tag. Then again, maybe all your home needs are a fresh coat of paint and some brand-new flooring to get you the best offer. Will you just be wasting your time and money doing a full renovation or will you get an even bigger offer that will double or triple that investment?
DealHouse's mission is to make home selling not only faster but easier. At DealHouse we've even streamlined the home inspection and repairs for clients who sell their houses to us. DealHouse will include a no-obligation home assessment to find fixes if any, your property might need—all FREE OF CHARGE. If the inspection identifies any work to be done, it will be left up to you to address the required repairs. You have the option to handle them yourself or leave to our team to do so you don't have to deal with the usual hassle and you can sell your house fast.
We'll walk you through how our home condition assessment and repairs process work and explain how it compares to selling the traditional way.
How does our home assessment and repairs process work side-by-side?
If you sell your home in the traditional system, you will undergo two rounds of repairs. Round 1 occurs even prior to listing your home in the market. You will need to use this round to get your place "show ready" for the scheduled open houses and viewings. Fixes involved in this phase might include defects buyers can easily see that might sour them. Even insignificant details such as stains chipped paint, and hard to open windows we can usually live with might turn off prospective buyers.
Some home sellers even choose to skip these cosmetic repairs and go straight to home inspection before putting their home on the market. This gives the seller an opportunity to address their house's problems and not having to make compromises with their buyer later.
This next round of repairs will occur after you already have a contract worked out with a buyer. The buyer might request a comprehensive home inspection for any issues that need to be checked prior to the home sale closing. Wear and tear can't be avoided in most homes that have been lived in, needing work to be done.
"Repair contingency" will most likely be included in your contract. It is a written contract made by you and the buyer specifying how repairs will be dealt with moving forward. The terms will often vary from case to case but have some consistent elements.
For example, if the repairs are identified following the buyer's inspection, you can decide:
Seller will handle the repairs
Buyer will be credited for the repair costs
Seller will not do the repairs
What can happen if you do refuse to make these repairs? Your buyer can contractually drop out of the home sale and ask for their earnest deposit money back—the "in good faith" funds they might have already provided you. It is never a good choice for home sellers to refuse to make the needed repairs to their homes since not only is it a waste of time and resources but putting your property back in the market without making any repairs might result in another disappointment.
Keep in mind, buyers will be rightfully wary of properties that are re-listed in the market in a short period of time. As a result, finding a new buyer will most likely be more difficult. Furthermore, if you do find a buyer, the home inspection phase and the need for repairs on your property is likely to show up again. It would be more cost-effective for you to make the needed repairs and get the stress of making them over with.
DealHouse's Home Assessment and Repair Process Explained
Our experience in the local real estate market can ensure know what repairs buyers will demand and address them. Should something become inoperable, broken or affect the function and safety of one of our properties, we are poised to address them in a fair and fast manner.
To illustrate, some of our standard repair requests include roofing, plumbing, flooring, foundation and HVAC systems. We don't deal with cosmetic repairs or upgrades but in repairs for functionality. We will not address the paint color of a kitchen but replace faulty plumbing that prevents a buyer from their functionality of preparing meals in the kitchen.
This is where DealHouse does differ from your everyday house flippers. They buy and sell homes "as is," marking up renovations for profit. We, on the other hand, make our bread and butter from our service fee and limit our repairs to what buyers usually ask for. Our definition of "reasonable" repairs are based on our concrete experience with buyers.
DealHouse's Very Flexible Repair Process
Although our home condition assessment and repair process is based on methods used by the traditional real estate industry, DealHouse has comprehensively streamlined the process with some significant innovations. If you chose to sell your home to DealHouse, you won't need to go through the hassle of 2 rounds of repairs as used in the traditional route of home selling. We provide our home condition assessment free and offer you the freedom to schedule it at your convenience. We will always be transparent about sharing our results and give you the flexibility to address required repairs: like doing them yourself or providing us with a repair credit.
We will provide you with a reasonable estimate for repairs and any applicable profits from the home sale.
If you are frustrated with how repair costs seem to be kept purposely vague in the traditional home selling route until you have a contract with your buyer, DealHouse provides a less worrisome alternative. Once we send you an offer, you will also get a very reasonable repair cost estimate based on the information you provide in your request. This includes factors like your property's state and our experience dealing with homes in similar condition. By providing you with an estimate early on, we hope you can make a more educated decision about what to do next like moving forward with the sale of your home or canceling it.
No draining multiple rounds of repairs.
You can trust that by selling your home directly to DealHouse, you completely bypass the headache of dealing with cosmetic repairs to your property just to get it ready for showing. The 2 rounds of repairs found in the traditional route of home selling are often draining time-wise, financially, and in energy. Instead, you can move forward to a guaranteed offer from us.
Who Will Do the Repairs?
We follow the traditional home condition assessment and send you a report detailing the repairs needed on your property and an estimated cost. We leave it to you how you want to address these required repairs. Leaving it to us by crediting our repair costs might even save you more money than doing it yourself thanks to the wholesale discounts we receive.
We will also give you the option to get a second opinion if you disagree with our home condition assessment findings.
No Risks to You!
Disagree with our assessment and don't want to pay the cost of repairs? You are never under any obligation to stay. Simply cancel our contract and you don't even have to pay any penalties or other fees. We understand!
DealHouse proves our dedication to taking out the hassle and headache out of home selling in Long Island. We've further simplified the process with our more than generous no obligation policy.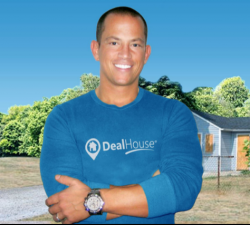 Latest posts by Chris Chiarenza
(see all)