Don't Fix These 6 Things When Selling Your House
Before you list your home, there's always a temptation to do some renovations or repairs. But as any experienced real estate agent will tell you, that strategy isn't always the best idea! When it comes time to put your house on the market, it may surprise you what upgrades are actually worth doing – and which ones won't bring much of a return in terms of sale price. In this blog post, we'll dive deep into six common mistakes homeowners make when they try to renovate before selling their home – so keep reading if you want to learn more about how not to pour money into projects that don't pay off!
Don't paint over wallpaper or other surfaces that can be easily damaged
Paint is a great way to give a room an entirely new look and add pizzazz, but it's important that you apply it carefully. One of the most important considerations is what surface you're painting on. Painting over wallpaper or other easily damaged surfaces can seem like taking the easy route, but it can quickly become a costly mistake. Cleaning up wallpaper glue tends to be extremely tedious, and if you have old or delicate wallpaper, it may not survive the process at all. Even walls with textured finishes aren't always suitable for painting – often, using a specially formulated paint designed for textured walls works much better than just brushing on regular paint. When in doubt, it's always best to check with your local hardware expert before committing to a project.
Don't replace the floors unless absolutely necessary
Replacing the floors may sound like a simple solution to tired, outdated decor, however it is an enormous undertaking that should not be taken on lightly. Homeowners often find their dreams of new floors quickly turn into nightmares as they discover hidden costs and unforeseen headaches that crop up with this project. It can be both costly and disruptive to your home's daily routine and should only be undertaken when absolutely necessary. Taking action can save money in the long run and ensure that your flooring investment will last for years to come.
Don't make major changes to the layout of your house
The layout of a house directly affects the way people move within it and the overall atmosphere, so if you're living in a space and enjoying it, resist the urge to make drastic changes. It may be easier to get all of your desired alterations done at once, but with those alterations come unexpected issues; walls may need to be moved that can cause instability elsewhere in the house and rooms that worked perfectly without another door or window may have lighting or ventilation problems afterward. It's also very time consuming, so if you're simply looking for a change of pace, try something simpler like rearranging furniture or adding accessories before tackling a full remodel job.
Don't invest too heavily in landscaping
Landscaping can be a fantastic way to make a home look and feel more attractive, but investing too much in it can end up needing costly maintenance down the line. Putting in a beautiful set of plants or bright flowers isn't necessary unless you plan to maintain them in the long term. Investing more money into your landscaping might not give you the return you thought it would and can sometimes be more of a hassle than it's worth. Instead, focus on creating something that is sustainable with simple plants that won't require huge amounts of work every year. Doing so will help your landscape last longer and still give your home a beautiful atmosphere without overdoing it or breaking your budget.
Be careful when replacing appliances and don't get high-end products
When it comes to replacing appliances in your home, there are a few points to consider. One of the key components is to not get too high-end of a product. It can be tempting to buy the most luxurious appliance that money can buy, but the truth is that you can find reliable and quality devices without breaking the bank. Before deciding on a model, research is key! Make sure to read customer reviews, talk to other people who own similar models, and compare prices so you get the best bang for your buck. Replacing appliances should always be done with caution and care so that you don't encounter any unpleasant surprises later down the line.
Don't start any renovation projects that you won't have time to finish
It can be very exciting to tackle renovation projects around the house, as they provide an opportunity to transform a space and make it more functional or aesthetically pleasing. However, it is important to not take on more than you can handle; starting a project that you won't have time (or ability) to finish may cause delays in completing and could worsen the situation. Not finishing a home renovation task could mean leaving dangerous unfinished objects or seeing increased project costs if you have to eventually hire someone else to complete the work. Sooner or later, taking on too many projects at once can lead to frustration and waste of valuable time and money, so plan your renovations carefully and stick to your own limits.
All in all, it's important to remember that when you're making renovations or repairs on a home, you don't have to break the bank. Sure, there are times when replacing floors or doing bigger projects is necessary and advised, but it's important to take time to consider whether or not the cost and effort of such a change is worth it. If you're looking to sell your house quickly, there are also cost-effective solutions such as selling directly to DealHouse. We can help you avoid the costly and unnecessary extra steps it takes to list your home on the market by giving you a no obligation cash offer for your property. So before you make any major renovation decisions, consider the alternative: selling directly with us at DealHouse – because why spend money on renovating if you don't have to?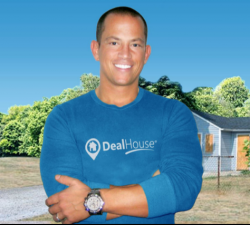 Latest posts by Chris Chiarenza
(see all)