Don't Fix These 6 Things When Selling Your House
Selling a home involves a host of decisions, many of which revolve around renovations and repairs. Conventional wisdom often advocates for a slew of touch-ups to make your home as appealing as possible to potential buyers. However, not all fixes necessarily contribute to a better selling price. Some may even work against you, causing unnecessary stress and expenditure. Here's an expanded discussion on six things you should consider not fixing when selling your house.
1. Minor Cosmetic Flaws
Why You Might Think They Matter
Small scratches on the wall, minor paint chipping, or a squeaky door hinge—these issues can seem magnified when you're about to list your home. You might assume that a buyer will zero in on these tiny flaws, seeing them as signs of poor upkeep.
Why You Shouldn't Fix Them
Contrary to what you might believe, buyers usually look at the bigger picture when touring a home. They're more concerned about the number of bedrooms, the condition of the kitchen, or the square footage rather than a scuff mark on the wall. It's also worth noting that many buyers expect to put their own stamp on a property after purchasing. This often includes a new paint job, making any you do before selling essentially redundant.
2. Outdated Appliances
Why You Might Think They Matter
Older appliances can stick out like a sore thumb, especially if a buyer is expecting a turn-key home. The thought of updating your kitchen with shiny new appliances may seem like a surefire way to attract higher offers.
Why You Shouldn't Fix Them
Firstly, new appliances are a significant expenditure. Secondly, taste in appliances can be highly subjective; your choice of a stainless steel refrigerator or a high-tech oven may not align with the buyer's preferences. Often, new homeowners want to choose their own appliances anyway, especially if they're planning a kitchen renovation.
3. Landscape Overhaul
Why You Might Think It Matters
Your home's exterior creates the first impression for buyers, and you might be tempted to invest in extensive landscaping, believing that a pristine lawn and blooming flowers will seal the deal.
Why You Shouldn't Fix It
While basic yard maintenance does make sense, going beyond that—like adding fountains, extensive flower beds, or new trees—may not yield a good return on investment. Landscaping tastes are subjective, and buyers might even see your extensive gardens as a burden rather than a benefit.
4. Luxurious Upgrades
Why You Might Think They Matter
From granite countertops to smart home systems, luxurious upgrades can feel like added value to your property. You might assume that these upgrades will make your listing more competitive.
Why You Shouldn't Fix Them
High-end upgrades usually come with high costs and don't necessarily appeal to all buyers. In some cases, they can even make your home stand out for the wrong reasons, making it seem too expensive in your market. It's crucial to know your audience; if you're not selling in a luxury market, these upgrades may be seen as excessive.
5. Custom Paint Jobs
Why You Might Think They Matter
A fresh coat of paint can transform a space, and you might be tempted to get creative with colors, textures, or patterns. Custom paint jobs can seem like an easy way to boost the aesthetic appeal of your home.
Why You Shouldn't Fix It
Taste in color is highly personal. What feels warm and inviting to you might seem garish or off-putting to someone else. Most buyers like to start with a blank canvas, making neutral colors the safer bet. If your walls are currently a neutral tone, you might not need to repaint them at all.
6. Partial Renovations
Why You Might Think They Matter
If your budget is limited, you might consider partially renovating your home. For instance, you could update the master bathroom with modern fixtures, hoping that this will make your property more attractive.
Why You Shouldn't Fix It
Partial renovations can make a home feel disjointed. A modern bathroom adjacent to a dated living room might not add the appeal you're hoping for. Buyers might wonder why the rest of the home hasn't been updated, leading them to suspect hidden issues or deferred maintenance.
In conclusion, selling your home involves a myriad of decisions, and knowing what not to fix is as critical as knowing what to enhance. At DealHouse, we offer tailored advice that takes into account the unique aspects of your property and the dynamics of your specific market. Our experts help you focus on renovations and fixes that will actually boost your sale price, potentially saving you time and unnecessary expenditure. So, if you're looking for a quicker, more profitable sale, trust the experts at DealHouse to guide you through the nuanced decisions that can make all the difference.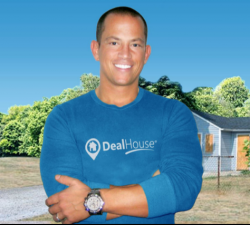 Latest posts by Chris Chiarenza
(see all)