Top 4 Frustrating Reasons Why Your Home Is Not Selling
4 Reasons Why Your Home Isn't Selling
Your home has been on the real estate market for months and still no sale. No serious home buyers, and no offers. This can be very frustrating for home sellers. The frustrating reasons why your home isn't selling could amount to a variety of reasons. It could be a poor real estate market, unrealistic asking price, location, the time of the year, and plenty more factors.
To help you ease the frustration, our professional home buying experts at DealHouse compiled a list of potential reasons your home simply is not selling. It may help you answer the stressful question: Why isn't my home selling?
1. Your home is not selling because it just isn't ready to sell
This is one of the top frustrating reasons why your home is not selling. If you take an in-depth look at all the homes listed in your area, and 95 percent of them are not selling, you need your home to be within the 5 percent of homes that are. This could have a lot to do with the comps your real estate agent used to help dictate the asking price.
For instance, maybe the comps are simply a bit behind the curve. To take this frustrating reason why your home isn't selling off the table, check out current home sales data in your area.
Then look at the curb appeal of your home, the interior, kitchen appliances, bathroom condition, and more. Ready your home to sell by comparing it to the homes that are selling and the rest will fall into place.
Get a free online competitive cash offer on your home with DealHouse and skip the frustrating process of selling traditionally. 
2. Your home is not priced to sell in your market
This is definitely a frustrating reason why your home is not selling. Simply because you may not know what pricing your home to sell really means. Sure, your real estate agent feels confident about your home's asking price, but he or she is not the one who needs to sell fast and move on with life's next great adventure.
We buy homes in Suffolk County and Nassau County on Long Island. And let's say you wanted to sell your Suffolk County, Long Island home. If you were to look at the asking prices in that area, you would see that homes are listed for around $500,000. Now you did your homework and listed your home for $511,000. But it has been months and still no offers.
Frustrating for sure! The reason why your home is not selling is because the average home in Suffolk County is actually selling for around $400,000. Thus an asking price of $511,000 is not priced to sell in the Suffolk County, Long Island market.
Here are some other cities in Suffolk County with average home values worth noting:
Smithtown – $520,000
West Babylon – $390,000
Deer Park – $371,000
Kings Park – $455,000
Central Islip – $374,000
Price your home to sell, but be sure it is comparable to the homes being sold in your area. You may be way overpriced for your market.
Don't want to worry about asking price? Sell your home fast by getting a competitive home cash offer, and even choose your closing date.
3. The images you have of your home are lackluster
Images are a major part of selling a home. And if your images are lackluster, it could be one of the frustrating reasons your home is not selling. You need high-quality, professional photos of your home, and a lot of them. 
Here are some home selling photo tips to consider:
Shoot all the bedrooms. Yes, the master bedroom should be the showcase photo, but don't forget to shoot high-quality photos of all the bedrooms. Think like a home buyer. If your home is listed as a three bedroom, have images of all three. No exceptions.
Highlight key selling points. If your home has an in-ground pool or remodeled master bath, take a lot of photos of those key home selling features. This can entice home buyers to take a tour to see these key selling points.
The kitchen is at the heart of the sale. Kitchens are one of the most important spaces for home buyers. This makes it critical to have 10 or more photos of your home's kitchen to really showcase the heart of the home. If your kitchen is not up to par, consider remodeling it, or adding new kitchen appliances to entice home buyers.
Add substance to all photos. This is a pro tip many real estate agents will forget. By adding text to your photos, you are marketing each individual home feature to the max. You could write short text like "morning breakfast sun" for a kitchen nook, or "summer ready" for a photo of the pool and backyard.
4. Last, but certainly not least, you have the wrong real estate agent
Many home sellers may not know that one of the most frustrating reasons your home is not selling is the real estate agent. You probably did a bit of due diligence when choosing your realtor, but the truth is, not all real estate agents are created equal. 
For instance, if you want to sell your home fast, you need a listing agent that is an expert in quick home turnover and high volume. Think of it like this, do you want an agent that sells 5 or so homes a year, or one that sells 50 to 100 homes? For a fast home sale, the high volume realtor knows how to get it done.
Skip the realtor and consider alternative ways to sell your home
There are also alternative ways to sell your home. Direct home buyers and iBuyers make selling a home fast pretty simple. You can get a cash offer on your home within 24 hours and even select the closing date. And it is mostly done online.
Going the alternative selling route is certainly fast and simple. And in some cases, you may even get a pretty close offer to what you will probably walk away with using a real estate agent. That's because you don't need to worry about home improvements, realtor commissions, home inspections, home appraisals, and other costly fees that are hidden in home sales.
Interested in selling your home fast today? Contact DealHouse and get a competitive cash offer that allows you to sell your home on your terms.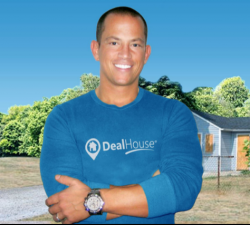 Latest posts by Chris Chiarenza
(see all)