How to Sell an Off-Market Property Listing in New York
Properties in New York City can be some of the most desirable and expensive real estate investments to make – but with that also comes a unique set of challenges on how to market them. Determining the best course of action when it comes to selling an off-market property listing in New York is critical, as the right steps can mean all the difference between a successful sale and none at all. With this blog post, we'll provide tips on how to successfully sell an off-market property listing in New York by directing our focus on key elements such as using creative marketing strategies, having connections with reliable networks, setting competitive prices for buyers, and much more! Read on if you want learn useful tactics that'll begin your journey towards selling your dream plot today!
Research the current market in New York for comparable properties
The real estate market in New York is constantly changing, and staying up to date with current trends and comparable properties can be a valuable tool for buyers and sellers alike. From sleek high-rise condos to historic brownstones, there are a wide variety of properties on the market, each with their own unique appeal. By conducting research to identify comparable properties, buyers can gain a better understanding of the value of a potential purchase, while sellers can get a more accurate idea of what their own property may be worth. With so many factors at play, it's important to seek out reliable data and stay informed on the latest market trends in order to make informed decisions.
Reach out to potential buyers with an enticing offer to view the property
The thrill of buying a new home is a feeling that few things can top. As a seller, your task is to give potential buyers a glimpse of the excitement that awaits them in your property. Enticing these buyers to come and see what your home has to offer can be a challenge, but it's a hurdle that can be overcome with the right approach. By putting yourself in the shoes of your ideal buyer, you can tailor your messaging and create an offer that resonates with them. Whether it's highlighting the beautiful scenery outside the window or emphasizing the luxury features of the property, there are many ways to make your home stand out. With a little creativity and a willingness to think outside the box, you can attract the perfect buyers and seal the deal on a successful sale.
Create a professional presentation and virtual tour of the property
When it comes to showcasing a property, nothing beats a professional presentation and virtual tour. With stunning visuals that provide a 360-degree view of the property, potential buyers or renters get a comprehensive look at what could be their new home or business. From the exterior to the interior, each room can be highlighted in detail to showcase the best features of the property. A well-made virtual tour allows viewers to navigate through the property themselves, get a feel for the space, and visualize how they would live or work in it. When creating a professional presentation and virtual tour, it's important to pay attention to the details and ensure that everything is presented in a clear, concise way. By doing so, you can make a lasting impression and increase the likelihood of a successful sale or lease of the property.
Use creative marketing techniques to draw attention to your listing
When it comes to listing your product or service, creativity can be your strongest weapon. With so much competition out there, it's important to stand out and grab your audience's attention. A good place to start is by understanding your target audience and what appeals to them. If you're targeting a younger demographic, social media campaigns and influencer partnerships could be key. Alternatively, if your product is more niche, you might want to consider targeted advertising or reaching out to specific publications. The key is to think outside the box and be bold with your messaging. Whether it's via eye-catching visuals, clever hashtags, or quirky brand voice, make sure your listing is memorable and unique. After all, if you don't catch people's attention, someone else will.
Utilize strategic networking tactics to spread the word about your listing
When it comes to selling a property, it's not just about putting a listing up and waiting for buyers to come to you. In order to truly maximize exposure and increase your chances of a successful sale, utilizing strategic networking tactics can make all the difference. This means tapping into your personal and professional networks, attending local events, and making connections with industry professionals who can help spread the word about your listing. By expanding your reach in this way, you greatly increase your chances of finding the right buyer for your property – and isn't that the ultimate goal? So don't be afraid to get out there, connect with others, and utilize the power of networking to make your listing shine.
Negotiate on price and terms to ensure a successful sale
Negotiations are a critical component of any successful sale, and it's important to approach them with a clear strategy. Whether you're the seller or the buyer, understanding what each party wants and needs is crucial to finding mutually beneficial terms. During negotiations, it's not just about getting the lowest price – it's about creating a scenario that benefits both parties in the long run. Sometimes, that may mean agreeing to slightly higher terms if it leads to a quicker or more stable sale. Open communication, creative solutions, and a willingness to compromise are key to a successful negotiation. Remember, at the end of the day, everyone wants a deal that works for them – so work together to find the right balance.
New York is a bustling market for investment properties, and landing the perfect real estate can seem daunting. Fortunately, dealing with the real estate process in New York doesn't have to be a challenge. With just the right combination of research, outreach, presentation, marketing, networking and negotiation skills – you could find yourself on your way to profiting on your investment property in no time. So if you're looking for a hassle-free way to sell your property fast, look to DealHouse to get started. We understand how important it is for our clients to receive cash fast without sacrificing fair deals. So do not hesitate. Reach out now and we will help make selling your house fast an easy experience!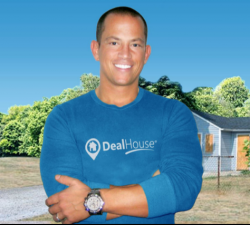 Latest posts by Chris Chiarenza
(see all)