How to Sell Your House for Top Dollar Without Doing Any Repairs
Are you looking to sell your home, but dreading the thought of taking on repairs and renovations before listing? Your worries may be unfounded; it is completely possible to put your house up for sale without doing any major repairs or interior design work. In fact, a little creative thinking can help you attract buyers that are willing to pay top dollar for your property—as-is. If this sounds like an appealing solution, read on for tips and insight into how you can successfully sell a home in its current condition.
Research recent home sales in your area and price your house accordingly
If you're in the market to sell your home, it's important to do your research and price it competitively. Recent home sales in your area can provide valuable insights into what buyers are willing to pay. By studying the prices of comparable homes that have recently sold, you can determine a fair market value for your own property. Setting your price too high could deter potential buyers, while pricing it too low could mean leaving money on the table. Take the time to analyze the local real estate market and make an informed decision on your asking price. It could mean the difference between a quick sale and a prolonged listing.
Make sure your house is spotless and free of clutter
There's nothing quite like coming home to a clean and tidy house. It can make you feel relaxed and calm after a long day at work. However, it's not always easy to keep your house spotless and clutter-free, especially if you have a busy family and a demanding job. It can seem like there's never enough time in the day to get everything done, but there are some simple steps you can take to make your home feel more organized and less chaotic. Whether it's decluttering your closet or dusting the shelves, taking the time to tidy up can make a huge difference in how you feel about your living space. So why not give it a try and see how much more peaceful and harmonious your home can be?
Stage the rooms with furniture and decorations that appeal to most buyers
As soon as potential buyers walk through the door of a home, they begin imagining themselves living in the space. That's why it's important to stage the rooms with furniture and decorations that appeal to the majority of buyers. Neutral tones and classic pieces will make the space feel inviting and allow buyers to picture themselves living there. Adding a few well-placed accents will make the home feel unique and memorable. The goal of staging is to create an environment that makes buyers feel at home and eager to make an offer.
Take professional quality photos of the house to showcase it online
First impressions are everything, especially when it comes to showcasing a house online. In today's digital age, potential buyers often form their opinions based on photos alone. That's why taking professional quality photos of the house is so important. To truly capture the essence of the property, it's best to hire a professional photographer who can expertly manipulate light and angles to showcase the house in the best possible way. If that's not feasible, investing in a high-quality camera and taking the time to learn some simple photography tips can go a long way in ensuring that your online listings look their best. With a bit of effort and attention to detail, you can make sure that your house stands out from the competition and attracts the attention it deserves.
Consider hiring a real estate agent who specializes in home staging and selling
Selling a home can be a daunting task, especially if you're not familiar with the ins and outs of the real estate world. That's when it's time to consider hiring a professional who not only knows the market but shines in home staging and selling. A specialized real estate agent can help you transform your property in ways you may not have considered, making it more appealing to prospective buyers. From rearranging furniture to adding new decor, a real estate agent who specializes in home staging can elevate your property's aesthetic and increase the chances of a successful sale. Don't let the stress of selling your home weigh you down – enlist the help of an expert who knows how to make your property stand out among the rest.
Create an attractive listing on popular home sale websites to attract potential buyers
When it comes to selling your home, making an attractive listing on popular home sale websites can make all the difference in attracting potential buyers. The first step is to gather high-quality photos of your home, showcasing the best features of each room. In your listing description, be sure to highlight unique or desirable qualities of your property, such as a large backyard, modern upgrades, or a sought-after location. Don't forget to include pertinent information such as the number of bedrooms and bathrooms, square footage, and any updates or renovations made to the home. Finally, consider investing in a professional home staging service to further increase the appeal of your listing and entice potential buyers to schedule a viewing. By following these steps and taking the time to create an engaging listing, you'll be one step closer to selling your home to the right buyer.
In conclusion, selling a house is a huge endeavor. It often involves lots of steps along the way including researching recent sales and prices of homes in your area, ensuring that your home is spotless and free of clutter, staging the rooms with eye-catching furniture and decorations that appeal to buyers, taking professional quality photos to showcase the house online, considering hiring a real estate agent who specializes in home staging and selling, and creating an attractive listing on popular home sale websites to attract potential buyers. With these tips in mind, you can make the process of selling your house go as smoothly as possible. If you're looking to sell your house fast for cash then consider DealHouse – we buy houses as-is with no delays or hassles! Don't wait – contact us right away and get started on the path to selling your house quickly.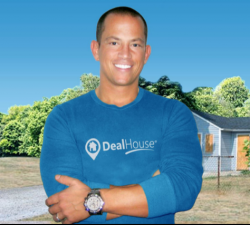 Latest posts by Chris Chiarenza
(see all)