How to Turn Your Ugly House Into a Lucrative Payday
If you've got an "ugly house" and find yourself asking how to turn it into a profitable investment, this blog post is for you. The journey from ugly duckling to swan can be daunting at times but with careful planning and the right know-how, there are tremendous opportunities available. You might have thought selling your home as-is was out of reach due to its aesthetic issues—but that couldn't be further from the truth! With some forethought and creative thinking you can go from eyesore to cash cow in no time! From tips on renovations all the way through successful staging techniques, read on if you want to join countless others in experiencing the reward of turning their ugly house into a lucrative payday.
Assess what needs to be done – make a list of repairs required to fix up the house
As you stand in the doorway of your new home, you can't help but feel a mix of excitement and overwhelm. Your mind races with all the possibilities and projects you want to tackle in order to turn this house into a home. But where do you begin? The first step is to assess what needs to be done. Take a walk through each room and make a list of all the repairs required to fix up the house. From the drafty windows to the leaky faucet, no task should be too small to jot down. With this list in hand, you'll be able to take the necessary steps to transform your new house into the home of your dreams.
Hire a contractor to do any major repairs, such as plumbing or electrical work
When it comes to major home repairs, like plumbing or electrical work, it's important to hire a contractor who can get the job done right. While it may be tempting to try and tackle these home improvement projects on your own, it's not worth the risk of something going wrong. A licensed and experienced contractor will have the skills and knowledge necessary to handle these complex repairs with ease and ensure that your home is safe and secure. Plus, hiring a professional will save you time and stress in the long run, so you can relax and enjoy your house without worrying about any major issues cropping up. Trust us, hiring a contractor is the smart choice when it comes to fixing your home.
Paint the exterior of your house with a fresh coat of paint and choose colors that are trendy and attractive
Your home's exterior is its first impression, so why not make it a great one? A fresh coat of paint can do wonders for the overall look and feel of your house, and with so many trendy and attractive colors to choose from, you can create a truly eye-catching look. Whether you opt for a classic neutral, a bold pop of color, or a unique combination, the right exterior paint job can add significant curb appeal and even increase your home's value. With a little time and effort, you can transform the exterior of your house and make it a true reflection of your personal style.
Give your home's interior an update with new furniture, curtains, and accessories
Transform your living space into a cozy haven with new furniture, curtains, and accessories. Adding a few new pieces of furniture into your living room, such as a comfortable couch or a stylish coffee table, can give your home a much-needed update. Additionally, new curtains can add a touch of elegance to any room while also controlling the amount of natural light that enters. With the right accessories, such as decorative pillows, frames, and plants, you can create an inviting atmosphere that feels like home. By incorporating these simple changes, you can effortlessly update your home's interior while also creating a space that reflects your unique style.
Add landscaping to increase curb appeal – install plants, shrubs, trees, and stones around the property
First impressions matter, and for homes, that starts at the curb. That's why adding landscaping around the perimeter of a property can make a big difference in its overall appearance. Installing plants, shrubs, trees, and stones can transform an unremarkable front yard into a lush oasis with eye-catching textures and colors. Not only does it make a home more inviting, but landscaping can also increase its value. Plus, it doesn't have to be a major undertaking – even just a small garden bed or a few potted plants can go a long way. By adding landscaping, homeowners can create a welcoming atmosphere that can make all the difference.
Don't forget about sprucing up the backyard – add outdoor seating or a fire pit for extra appeal
As we move into the warmer months, it's important not to neglect our outdoor spaces. Adding a cozy seating area or a fire pit can make all the difference when it comes to entertaining and relaxation. Imagine gathering around a crackling fire with friends and family, or sitting outside on a warm summer evening with a good book. Creating these little pockets of outdoor charm can elevate your backyard to a whole new level. So don't forget to spruce up your space and add that extra appeal with some outdoor seating or a fire pit – you won't regret it!
As a homeowner, it can be difficult finding the time and money to complete repairs necessary to spruce up your home before you decide on listing it. But with the right resources and plan, anyone can quickly transform their ugly house into something amazing. To ensure your long-term success in addressing any necessary repairs, preventative maintenance should always be one of your primary objectives. From taking care of major issues such as plumbing or electrical problems to painting the exterior to enhance curb appeal, there are plenty of steps that can be taken to make a big difference – without spending a lot of money. Don't forget landscaping too – adding plants, shrubs, trees, and stones around the property will also help give your home an extra boost in both resell value and overall appearance. Finally, don't forget about sprucing up the backyard too – adding outdoor seating or even a fire pit you can enjoy with friends and family is an appealing way to add inviting vibes to any residence. If all these steps fail or you simply don't have enough time or resources to update your house before listing it, Sell your ugly house easily to DealHouse and they will buy any houses for cash. All these steps when taken seriously can greatly increase the value of your home but more importantly bring out its true potential as a showcase property in the market bringing along a great feeling of satisfaction that comes with a hard earned victory from transforming an ugly house into an attractive safe haven for many years!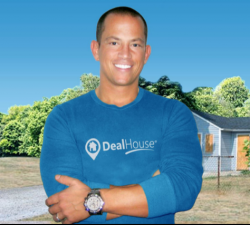 Latest posts by Chris Chiarenza
(see all)