Is Selling Your House for Cash Right for You? A Comprehensive Guide
Are you considering selling your house for cash? It's an attractive option, allowing you to skip out on upkeep and time-consuming paperwork typically associated with the traditional home sale process. But is it really worthwhile? If this question has been nagging at you, read ahead; in this comprehensive guide, we'll explore all the different aspects of a potentially lucrative – but sometimes risky – endeavor like selling your house for cash.
Defining "Selling Your House for Cash" – What are the Benefits & Drawbacks
Selling your house for cash is a popular trend among homeowners who want to avoid the traditional home-selling process. This method involves working with a real estate investor or cash buyer who will purchase your house in its current condition, without the need for repairs or renovations. The benefits of this approach include a fast closing process, minimal paperwork, and no need for staging your home. However, there are also drawbacks to consider, such as the potential for a lower sale price compared to listing your house on the market and the possibility of dealing with unscrupulous buyers. Ultimately, deciding whether to sell your house for cash requires careful consideration of your unique situation and goals.
Home Inspections – Do You Need to Have One Before Selling Your House for Cash
Selling your house for cash can be a quick and convenient way to move on to your next adventure. However, before you accept an offer, it's important to consider all aspects of the sale – including the condition of your home. A home inspection is a smart choice no matter what type of sale you're pursuing. It can alert you to any potential issues that could negatively impact the sale, allow you to make repairs before listing your home, and give buyers peace of mind that they are making a sound investment. While it's not always required to have a home inspection done before selling your house for cash, it could save you a lot of headaches down the road. Consider it an investment in your peace of mind and the successful sale of your home.
The Pros of Selling Your House for Cash
Are you tired of dealing with the stress and uncertainty of the traditional home selling process? Selling your house for cash might be the solution you've been searching for. One of the biggest advantages of selling for cash is the speed of the transaction. No more waiting months for potential buyers to secure financing or for the closing process to conclude. You can have cash in hand in a matter of days. Additionally, cash offers tend to be more straightforward and simple, with fewer contingencies and complications. Finally, selling for cash can give you more flexibility and control over the sale, allowing you to negotiate on your own terms and avoid costly repairs or renovations. If you're looking for a hassle-free and timely way to sell your house, cash might be the way to go.
The Cons of Selling Your House for Cash
Selling your house for cash may seem like an attractive option at first, but it's important to consider the potential drawbacks before making a decision. One of the biggest cons is that you'll likely receive less money than if you were to sell it through a traditional real estate agent. Cash buyers often expect a discounted price in exchange for a quick and hassle-free transaction. Additionally, you may not have the opportunity to negotiate or make repairs to the house before the sale, which could impact the overall value. It's important to do your research and weigh the pros and cons before pursuing a cash sale.
Steps to Take When Selling or Buying a Home for Cash
Are you planning on buying or selling your home for cash? It may seem like a daunting task, but there are simple steps you can take to ensure a smooth transaction. Before making any decisions, it's important to do your research and find a reputable cash home buyer or seller. Once you've found the right fit, be sure to have a thorough understanding of the terms and conditions before signing any agreements. Additionally, having a clear understanding of the home's value can help you negotiate a fair price. Lastly, be sure to work with a trusted title company to ensure a smooth and legally sound transaction. By taking these steps, buying or selling your home for cash can be a simple and stress-free process.
How to Find a Reputable Company to Buy Your House Quickly and Easily
Selling a house can be a stressful and overwhelming process, especially if you need to sell it quickly. Finding a reputable company to buy your house quickly and easily can save you time and hassle. When looking for a company to buy your house, do your research and read reviews from previous clients. Make sure the company is licensed and accredited, and ask for proof of closing dates and successful transactions. A trustworthy company will have transparent communication and be upfront about their fees and process. Don't hesitate to ask questions and make sure you feel comfortable with the company before moving forward with the sale of your house. With the right company, selling your house quickly and easily can be a stress-free experience.
In conclusion, deciding whether or not to sell your house for cash is a decision that needs to be made after considering all the benefits and drawbacks. The pros include faster sales, more money earned, and no fees. The cons include buyers pressuring you into selling too quickly, and being unable to negotiate with them towards improvements. However, there are steps you should take when buying and selling a home for cash in order to ensure both parties are treated accordingly as well as protected from any fraud or legal issues. With the help of a reputable buyer like DealHouse who offer quality customer service and an easy, stress-free process when it comes to buying houses for cash you can be sure to have the best overall experience! So if you're looking at taking this route to sell your home fast and easily start by getting in touch with us. Sell your house to DealHouse. We are local cash home buyers. We buy houses as is – contact us today and we'll help make selling your house a seamless process!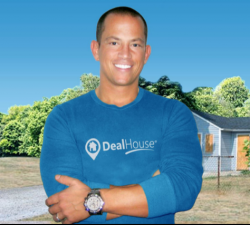 Latest posts by Chris Chiarenza
(see all)