Questions to ask a cash home buyer
As a homeowner, you put much effort into making your home a place of comfort and security. When it's time to move on or make a sudden change in housing, it can be difficult and confusing trying to figure out the right steps to take. A solution that might work for you is speaking with cash home buyers – they are professional companies who pay cash upfront for properties. Before engaging this kind of arrangement though, there are several questions you should ask them so that you have all the details at hand and know what kind of deal you're getting yourself into before signing any commitments. Read on for some tips about the key questions to ask when talking with potential cash home buyers!
What is the process for selling my home to you through a cash purchase offer?
Selling your home to us through a cash purchase offer is made easy and stress-free. We make sure the process runs quickly, helping both you and us save time and money. To start, simply give us an overview of your property information so that we can assess its value and make you a fair offer. At this stage, we will also need to collect some proof that you are the rightful owner of the property. Once our investigation is complete and we've made you an offer, it's up to you to accept or decline. If accepted, then the details will be finalized in writing and confirmed with signatures from both parties. Finally, all proceeds of the sale will be released to you in as little as seven days, allowing for a fast and hassle-free closing process.
How quickly can you close this transaction and how long will it take for me to receive the funds from the sale of my home
When it comes to closing transactions and receiving funds from the sale of a home, it is important to look for a solution that offers fast and secure payments. It is possible to settle this kind of transaction quickly and obtain funds in as little as three days. This means you can be certain of getting what you're owed without waiting weeks or months for the money to arrive. To find out more about how quickly you could close this transaction and get your hands on the cash, don't hesitate to get in touch with us today.
Do you offer any additional services, such as helping with home repairs or staging prior to closing
If you are looking to maximize the potential value of your home, we offer additional services such as helping with home repairs and staging. Our team is knowledgeable on home maintenance and renovation projects to help update your home and increase its value. We also provide professional staging services to prepare homes prior to closing. Staging a home allows prospective buyers to envision their own style in an already inviting setting. With our assistance, you can be confident that your home will be ready for a smooth closing process.
Are there any fees associated with your cash purchase offer beyond what I would typically pay when selling my home through another company
When you decide to accept a cash purchase offer from our company, you can rest assured that there are no hidden fees beyond what would typically be expected in any other home sale transaction. Everything encompassed within the offer is clearly outlined with no ambiguities so there will be no surprises or extra costs to worry about. We pride ourselves on being straightforward and transparent so you know exactly how much money you'll end up with after the completion of the sale. With us, you won't have to worry about closing costs, commission fees or any additional fees – just a guaranteed smooth process and cash for your home when it's all completed.
What happens if I change my mind after accepting your offer – are there any penalties or other costs I should be aware of
It's understandable that you may have a change of heart after accepting a job offer, which is why it is important to ask about your options. Depending on the company and the amount of time since you have accepted their offer, there may be some penalties or costs associated with a withdrawn acceptance. However, you should be aware that without pre-existing conditions stated in the offer letter, most employers are willing to work with you and may understand if your circumstances have changed. Make sure to communicate as openly and honestly as possible so that you can maintain a good relationship with them regardless of the outcome.
Are there any contingencies that need to be satisfied before closing on the sale of my home, and what happens if they aren't met in time
When selling a home, it is important to be aware of any contingencies that must be met before the sale can close. Common contingencies involve mortgages, appraisals, inspections and other transaction requirements. Depending on these contingencies, the closing process may take longer than expected and can delay the entire sale. If any of these conditions are not met in time, buyers and sellers need to renegotiate new deadlines or consider alternative options such as cancelling the contract entirely. It is thus essential for both parties to act promptly when fulfilling their obligations in order for the sale of a home to take place without interruption.
Ultimately, the decision to sell your home and accept a cash offer from DealHouse is yours alone. You can expect that we will work collaboratively with you to ensure a smooth, seamless process. We understand how important it is for you to receive the proceeds from the sale of your home as quickly as possible and will do our best to minimize any delays in completing all aspects of the transaction. Additionally, we are happy to help accommodate any of your specific needs such as offering assistance for repairs or staging prior to closing with no additional fees associated with these services. Furthermore, if you decide that you would rather not move forward after accepting our offer, then there will be no further costs associated with canceling the deal. Furthermore, our cash offers come without any added contingencies which helps keep closing timelines more consistent and measurable. Take charge of your financial future today by contacting us at DealHouse and take advantage of our reliable cash purchase offer!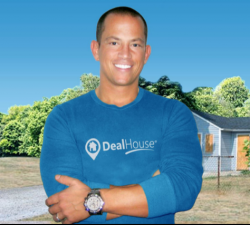 Latest posts by Chris Chiarenza
(see all)