Selling a Distressed Property? Cash Home Buyers Can Help
Are you trying to sell your distressed property? Don't panic – cash home buyers could be your saving grace. Whether you're facing a financial hardship, dealing with repairs that are too costly, or work and time constraints prevent you from selling it yourself, the right cash home buyer can help lift these burdens off of your shoulders so that you can get a fair price for a complicated sale. In this article, we'll outline how cash home buyers can make the process easier and give insight into what benefits they offer that more traditional methods may not provide. Read on to learn more!
What is a Distressed Property and Who are Cash Home Buyers
When it comes to purchasing a property, there are a few different routes that one can take. One type of property that a potential buyer may come across is a distressed property. This type of property is often in need of serious repairs or renovations, and may even be in foreclosure. For those looking to sell a distressed property, cash home buyers may be a valuable resource. Cash home buyers are individuals or companies who purchase property with cash, often in an expedited manner, offering a quick solution for those looking to move on from a distressed property. Whether you're a buyer or a seller, it's important to understand these different types of properties and buyers in order to make informed decisions about your next big move in the real estate market.
Benefits of Selling to a Cash Home Buyer
Selling your home can be a daunting task, but selling to a cash home buyer can make the process much smoother. A cash home buyer can provide a number of benefits that traditional home buyers cannot. For one, the process is much quicker. You can receive a cash offer in as little as 24 hours and close the sale in as little as a week. Additionally, cash home buyers often accept homes in any condition, saving you time and money on costly repairs. Plus, you don't have to worry about financing falling through or the buyer backing out at the last minute. Selling to a cash home buyer can be an efficient and stress-free way to sell your home.
How to Find the Right Cash Home Buyer
For those looking to sell their home quickly, finding the right cash home buyer can be a game-changer. But how do you know who to trust and what to look for? Start by doing your due diligence and researching the reputation of potential buyers. Check out their reviews and ask for references from previous clients. It's also important to have open communication throughout the process to ensure both parties are on the same page. Look for a buyer who is transparent, knowledgeable, and has a proven track record of success in the industry. With the right cash home buyer, you can sell your home efficiently and confidently, without the stress and hassle of a traditional sale.
Understanding the Process of Selling to a Cash Home Buyer
For homeowners looking to sell their property quickly and without the hassle of dealing with real estate agents, a cash home buyer might be just the solution they need. But what exactly is the process of selling to a cash buyer? Essentially, a cash home buyer is an individual or company that buys a property outright for cash, without requiring financing or mortgage approval. This means that the sale can often be completed in a matter of weeks, rather than months. To get started, homeowners typically reach out to a cash home buying company or investor, who will evaluate the property and make an offer based on its condition, location, and market value. From there, it's a matter of negotiating the price and terms of the sale and completing the paperwork to transfer ownership. While it may not be the right choice for everyone, selling to a cash home buyer can be a fast and efficient way to unload a property and move on to the next chapter.
Best Practices for Working with a Cash Home Buyer
Working with a cash home buyer can be a great option when you need to sell your house quickly. However, it's important to do your due diligence and follow best practices to ensure a smooth and successful transaction. First, research potential buyers and choose one with a reputable track record. Be sure to thoroughly review any contracts or agreements before signing. It's also wise to have a professional appraisal or inspection done on your property to determine its true value. Lastly, communication is key. Keep in touch with the buyer and be responsive to any questions or concerns they may have. With these best practices in mind, selling your house to a cash home buyer can be a stress-free and efficient process.
Common Questions Answered About Selling Your Distressed Property to a Cash Home Buyer
Selling a distressed property can be stressful for any homeowner. However, cash home buyers have emerged as a popular alternative to the traditional selling process. They offer a quick and simple way to sell your property, even if it's in poor condition or needs repairs. Many homeowners are curious about how this process works, and what benefits they can enjoy. Luckily, we've compiled some common questions about selling distressed properties to cash home buyers. From the benefits of a cash sale to the timeline of the process, we have you covered. With this information, you'll be able to make an informed decision about whether a cash sale is right for you.
In conclusion, selling a distressed property to a cash home buyer can be an advantageous financial move for those looking to save time or money during the sale of their home. Cash home buyers provide convenience, have access to quick and large amounts of capital, and simplify the process related to flipping homes. As with any major transaction or investment, it is advised that sellers review the various options and make sure they feel comfortable working with their chosen cash home buyer. Before selecting a cash home buyer, investigate thoroughly by reading online reviews, asking for recommendations from other investors, and comparing services between different companies. Be open-minded about potential offers, but be sure to protect your interests at the same time .When selling a distressed property to a cash home buyer it is important to know exactly who will conduct repairs on the property as well as who will pay for these repairs. If possible try to craft an agreement which benefits both parties involved in the transaction and make sure each party knows what they are responsible for. Finally, if you're looking for an experienced cash home buyer with unparalleled service and satisfaction call DealHouse! We buy houses "as-is" for cash and guarantee highly competitive offers in no time! Get started today!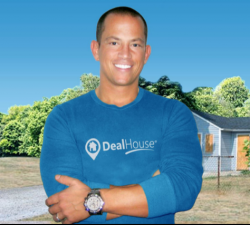 Latest posts by Chris Chiarenza
(see all)