Selling a House in a Flood Zone: Tips for Long Island Homeowners
You may have fulfilled your lifelong dream of living by the water but, now that you need to move, you face the challenges of selling property within a flood zone. Higher costs and risks could result in a disappointing turnout of prospective buyers or offers being much lower than anticipated. However, don't lose hope! Below are tips to help you navigate the tricky process of selling a home in a flood zone, as well as an easy alternative to consider. 
Preliminary Activities for Selling in a Flood Zone
Price your home accordingly
A home in a flood zone comes with additional costs, including but not limited to flood insurance. The listing price of your house should be adjusted to reflect those additional costs that a homeowner bears. This will keep your house competitive with other properties that are not located in a flood zone. 
Be transparent
New York State requires sellers to fill out a Property Condition Disclosure Statement, which asks you to disclose any flooding history or floodplain designation for your home. Failing to disclose could lead to legal consequences. It is always best to be transparent with potential buyers about the flood risks and flooding history. 
Double-check your home's flood zone designation 
Flood maps change over time. You could have purchased your home when it was in a moderate risk zone, only to have it reclassified into a high-risk zone later. Before listing your home, check recent or upcoming map changes for Long Island on the FEMA website. If you believe your home was incorrectly classified, you can request a change to your zone designation.
Other Tips to Selling Your House in a Flood Zone
A potential buyer will have concerns about the flood risks and expenses of your house, even more so if it is located in a high-risk flood zone. Be prepared to answer their questions and take additional steps to make your property more appealing. 
Order an elevation certificate
When purchasing homes in high-risk flood zones, buyers must submit an elevation certificate to their lender and insurance agency. The information in the elevation certificate determines a risk-based premium rate for their flood insurance policy. 
Make it easy for the buyer by ordering an elevation certificate from your local floodplain manager in advance. You could even go ahead and collect quotes from various insurance agencies yourself, so that you can give your home's buyer a range of options for flood insurance.
Make interior and exterior improvements 
Homeowners can reduce flood risk and lower insurance premiums with certain home improvements, such as:
Elevating your home above base flood elevation

. Although an expensive project, this can drastically lower both the risks of flood damage and your insurance premiums. 
Elevate or relocate mechanical equipment such as your furnace, electrical utilities and plumbing.

These measures would save you thousands of dollars in repairs and replacements in the event of a flood.
Installing floor vents in your basement or crawl space.

These openings allow water to move in and on without damaging the walls or foundation of the home, ensuring that the structural integrity of the home stays intact.
When speaking to potential buyers, make sure to highlight the importance and cost-saving measures of any improvements you have made. 
Show flooding records 
Even though your house is located in a flood zone, perhaps it has never or rarely been flooded. In that case, you would want to let the potential buyer know that the risk of flooding is low by requesting and sharing a Comprehensive Loss Underwriting Exchange (CLUE) report. 
Offset costs for the buyer
Finally, you can offer to discount the buyer's flood insurance costs for a year from the purchase price. This can build good will with the buyer and be the incentive they need to buy your home.
An Easy Alternative – Selling to an iBuyer Like DealHouse
If you're a potential home seller located in a flood zone, your head may be spinning with all the extra work outlined above. Keep in mind, you can skip the majority of these steps by selling to an iBuying company rather than an individual. This means that they'll do the research on your behalf and provide a cash offer based on the property's current condition. Better yet, you can receive it in as little as 24-hours and choose the closing date most convenient for you. 
DealHouse, a Long Island iBuyer You Can Trust
DealHouse is a different, faster and smarter way to approach selling your house, dedicated to taking out the confusion and anxiety of the usual real estate process. If you would like to sell us your house in Suffolk County or Nassau County, contact us at 631-388-6640, or request a cash offer online.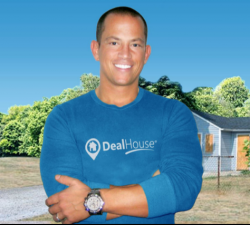 Latest posts by Chris Chiarenza
(see all)