Selling Your House that is Haunted
Are you looking to sell your Haunted House? If so, you're in luck! There is a growing market for spooky properties, and with the right marketing strategy, you can definitely find a buyer. However, selling a Haunted House does require some special considerations. With these pointers in mind, you should be able to successfully sell your Haunted House in no time!
Research the market to see how much haunted houses are selling for in your area
Investigating the local market for haunted houses can help you determine whether it's a worthwhile investment. It's important to take into account things like the state of the property and the surrounding neighborhood; getting an expert opinion on the value of an existing home will ensure that you're making a sound financial decision before investing. Additionally, many towns have specific laws and regulations for creating a haunted house attraction, so make sure to research those thoroughly before moving forward with your plans.
Have a professional inspection done to identify any potential issues that could turn buyers away
When listing a house for sale, it is important to consider any potential issues that could turn buyers away. By having a professional inspection done, you can ensure that crumbling walls and major plumbing issues do not prevent a successful selling process. Professional inspectors will examine all aspects of the house to find pre-existing damage so that the seller can negotiate an appropriate price. This is in contrast to letting these problems lurk and come up later, when they are sure to lower the price of the house even more than they would have prior to listing it on the market. Taking care of these potential issues upfront allows sellers to rest assured that their house will be in the best condition possible.
Address any problem areas identified by the inspection, such as fixing broken windows or repairing damaged walls
Taking care of any problem areas identified by the inspection is paramount to keeping property functional and safe. After all, fixing broken windows or repairing damaged walls can go a long way in preventing bigger issues later on. Ignoring these smaller problems can make them increasingly difficult and expensive to repair down the road. It's important to stay on top of these potential issues to ensure your property remains in optimal condition for years to come.
Make sure your home is clean and presentable before showing it to potential buyers
When you're trying to sell your home, nothing does more for curb appeal than a clean and presentable house. Nobody wants to purchase a home that hasn't been cared for properly, so making sure you are taking all the necessary steps to bring out its best features is essential. Cleaning the outside spaces and making inside repairs will help the buyer envision themselves living in the space. As a seller, no time or effort should be spared in ensuring your property looks its best when someone comes to view it. Presentation is key in creating an inviting atmosphere that allows buyers to picture themselves making it their own. Make sure your home is as pristine as possible for prospective buyers and you could be guaranteeing yourself a great sale!
Highlight the unique features of your house, such as its history or the fact that it's said to be haunted
My house is truly one of a kind. Built in the early 1800s, it has a long and interesting history that I love to learn about and share with new visitors. It's also said to be haunted – I'm not sure if I believe it, but some people claim to have pretty convincing encounters with the spirits that supposedly reside here! Most notably, my house is characterized by its stately brickwork exterior and turn-of-the-century charm that you can feel from the moment you walk inside. Whether or not you believe in ghosts, it certainly feels like something special inhabits this place!
Be prepared to negotiate with buyers who may be interested in your property
When it comes to selling a property, negotiation plays a key role. To maximize your chances of success, make sure you are prepared before entering into any negotiations. Make sure you have an understanding of the current market conditions and the value range for properties in your area. Consider different positions that both the buyer and seller may take on items such as pricing and closing dates. Finally, think through scenarios ahead of time so you can be ready to counter any argument or offer made by your buyer. With appropriate preparation, you will be ready to negotiate a deal that is satisfactory to both parties.
Selling a haunted house might seem like a daunting task, but there are some things you can do to make the process easier and more successful. Research the market to get an idea of what other houses in your area are going for. Have a professional inspection done to identify any potential issues that could turn buyers away. Then, address any repairs or maintenance that need to be done. Clean your home and present it well when potential buyers come by – don't forget highlight its unique features. Finally, prepare yourself to negotiate with buyers who may be interested in your property. At the end of the day, selling you haunted house doesn't have to be a challenge if you take the time to do all these things correctly. If you decide that selling your home is too complicated or just doesn't fit into your timeline, Dealhouse buys houses fast. They buy properties "as-is" no matter their condition or situation – no questions asked!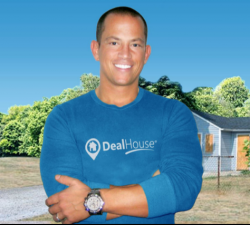 Latest posts by Chris Chiarenza
(see all)