What Are iBuyers and How Do They Work
As real estate continues to evolve, the ways in which we buy and sell homes are changing. One of these new developments is the emergence of iBuyers (instant buyers), companies that allow homeowners to sell their properties within a much shorter period of time than traditional buyers or agents. This innovative approach can provide unique opportunities as well as potential pitfalls, so it's important to understand what they are and how they work – which is exactly what this blog post will be exploring! Read on to learn everything you need to know about iBuyers including why they exist, who they serve best, how the process works and more.
Overview of what iBuyers are and how they work
An iBuyer is a real estate company that uses specialized algorithms and data to make cash offers for properties. They are commonly internet-based, making it more convenient for sellers as they can often get offers on homes within 24-48 hours of submitting the details. The process includes having an iBuyer inspect the property, then shortly after an offer will be made. Once accepted – typically within 30 days or less – the iBuyer pays in cash and closes on the home without needing any financing or additional processes. This makes it a quick sale without necessary repairs or improvements and is convenient for both buyers and sellers alike.
Benefits of working with an iBuyer, such as convenience and speed
Working with an iBuyer can be a great option for those who want to move quickly when selling their home. Not only is it more convenient than traditional real estate options, but it also offers a speedier sale process, allowing sellers to get the funds they need in no time. Many iBuyers use technology-driven systems that make the process easier and quicker than ever before; most transactions are closed within weeks! There are also advantages such as avoiding extensive repairs or upgrades to sell the home, as well as fewer showings or inspections that can take up time and cost extra money. For those looking for a fast and convenient way to get their house off the market and get paid quickly, working with an iBuyer may be the perfect choice.
Potential drawbacks to consider when working with an iBuyer
When considering working with an iBuyer, it's important to understand the potential drawbacks of this relatively new and quickly growing part of real estate. While an iBuyer can make a quick sale process more convenient, they generally offer lower purchase prices than traditional buyers and take longer to close a deal. In addition, buyers will likely be liable for some costs during the transaction that would traditionally be covered by a realtor or listing agent's commission. These drawbacks should always be weighed carefully when deciding whether to accept an offer from an iBuyer. By being aware of every step involved in the process and ensuring you are comfortable with all associated costs, you can feel confident in making the best decision for you and your property.
How to research an iBuyer before committing to a deal
Buying or selling a home is arguably one of the biggest life decisions anyone can make. It is important to research any potential iBuyer before committing to a deal. Start off by looking up reviews on the particular iBuyer and familiarize yourself with how they go about their business. You can also speak with other homeowners who have used them in the past and see what kind of feedback they give. Additionally, getting offers from multiple iBuyers will help in getting a better understanding of what the market value might be before taking the plunge. Being well informed and knowledgeable about who you are working will make all the difference in creating a positive outcome for your sale of purchase!
Questions to ask yourself before deciding whether or not to use an iBuyer
Before you make the decision to use an iBuyer, it's important to ask yourself some important questions. What is the condition of my home? Is an iBuyer the best way for me to get the highest amount for my property in the current market? Is there a better option to get the money I need quickly? It's also important to ask if you have time on your side – if time is not an issue and you are willing to put in more effort then using an iBuyer might not be the most logical choice. Consider all angles and do thorough research before deciding whether or not to go with an iBuyer. Taking some time to consider could ultimately save you money in the long run.
Tips for evaluating the market value of your home before submitting it to an iBuyer
Before submitting your home to an iBuyer for a sales transaction, it is important to accurately assess the market value of your property. To get an accurate evaluation, consider factors such as its condition, location, size and age. While the age of a home doesn't necessarily affect the value, updates or renovations may entice buyers and increase the value of your property. Professional appraisers are also highly recommended since they know techniques and strategies which go beyond simple comparisons with other similar homes in the area. Additionally, they have intricate knowledge of local regulations that could potentially affect the potential market value of your home. Ultimately, being mindful of these points can help you make sure that you are getting a fair deal when selling to an iBuyer.
In conclusion, iBuyers are a great option to consider when you need to sell your house fast. They offer convenience and speed, but there are some potential drawbacks that you should be aware of. Researching an iBuyer ahead of time and thoroughly evaluating the market value of your home are both important steps to ensure that you get the best possible deal. Ask yourself these questions before working with an iBuyer: How much will I get for my house? And what hidden costs can I expect? Ultimately, it's up to you to make the best decision for your situation – do some research and make sure it's the right one! If you're looking for an experienced iBuyer, DealHouse is here to help. We buy houses as is for cash and make the process effortless from start to finish. Contact us today or start your research at our website to learn more about how we can provide a positive home selling experience for you.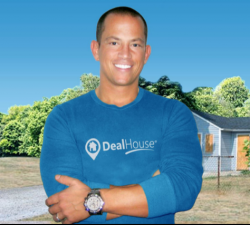 Latest posts by Chris Chiarenza
(see all)