What Must You Disclose When Selling a House in Long Island
What Must You Disclose When Selling a House in Long Island
Home sellers work hard to present their property in the best light possible through well-lit photographs, strategic staging, and the honeyed words of their realtor. However, there are certain facts Long Island sellers must disclose to potential buyers, no matter how ugly the truth. 
Whether the

house is in a flood zone

or a region designated as wetlands or an agricultural district. 

If the property is positioned on top of a previous landfill site or there were fuel-storage tanks 

Past or present presence of health hazards including asbestos, as well as paint and plumbing made with lead

History of petroleum or toxic materials spills, as well as radon testing results

Known structural damage, caused by water, fire, smoke, insects, or rodents

Known defects in key building elements including the driveway, patio, hot water heater, interior walls, sump pump, chimney, etc. 

A detailed history of roof repairs and replacements

Current status of the utilities and water qualities, as well as any issues with sewage and draining

Any property which is shared, such as a garage

HOA fees, financial health, and rules

If the owner established and upheld beliefs of haunting
There may be questions you don't have the necessary information to answer, which is okay. However, if you purposefully withhold information, you and your realtor are both vulnerable to be sued by the home buyer for fraud. 
What You Don't Need to Disclose When Selling in Long Island, New York
Any history of crimes or deaths that took place on the property. The exception is if the death was directly associated with the condition of the home. 

The health history of past occupants
For further information, please refer to this document Long Island home sellers are expected to complete. 
New York Disclosure Laws Differ From Other States
Seasoned home sellers may be surprised to learn that the rules of one state don't necessarily translate to another. For example, New York is only one of four states that requires home sellers to report paranormal activities. Reversely, California requires home sellers to disclose any history of legal disputes or disruptive behavior by neighbors.
Relatedly, condominium sellers don't need to disclose as much as house sellers, as it is assumed that they carry less responsibility for the overall property. 
Worried About Scaring Away Buyers? Don't Fret 
If reading all this fills you with anxiety that you'll never sell, don't worry. You still have options, such as:
Making home improvements prior to selling.

This makes sense in certain circumstances, such as removing asbestos or replacing a defective hot water tank. However, there are certain disclosed red flags you simply can't erase, including a history of termite damage, flood damage, and black mold.

Lowering your asking price.

If your Long Island house comes

with hefty baggage, make sure to price it accordingly. An experienced realtor can help you determine what is reasonable. 

Marketing to individuals looking to "flip" the property or knock it down entirely.

By presenting your Long Island home to be sold "as is," you will attract a greater number of buyers looking for a project. While they're less likely to be turned off by your house's many issues, they'll still expect a lower price than if you sold it to a traditional buyer. 

Selling your Long Island home to DealHouse, a Long Island iBuyer who will give you a cash ohttps://dealhouse.com/working-with-an-ibuyer-to-sell-your-long-island-home/ffer no matter the condition of your house.

To get started, simply answer a few simple questions online and you'll hear from us within 24-hours with an offer. When assessing your property, we'll take into consideration many of the factors mentioned above and, based on our knowledge of the location and market, provide a fair rate that you have no obligation to accept.
Want to learn more about DealHouse or additional tips for what home sellers need to disclose in Long Island, New York? Call us at 631-388-6640.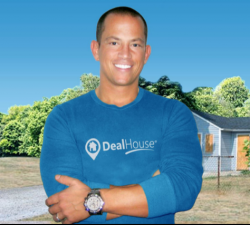 Latest posts by Chris Chiarenza
(see all)